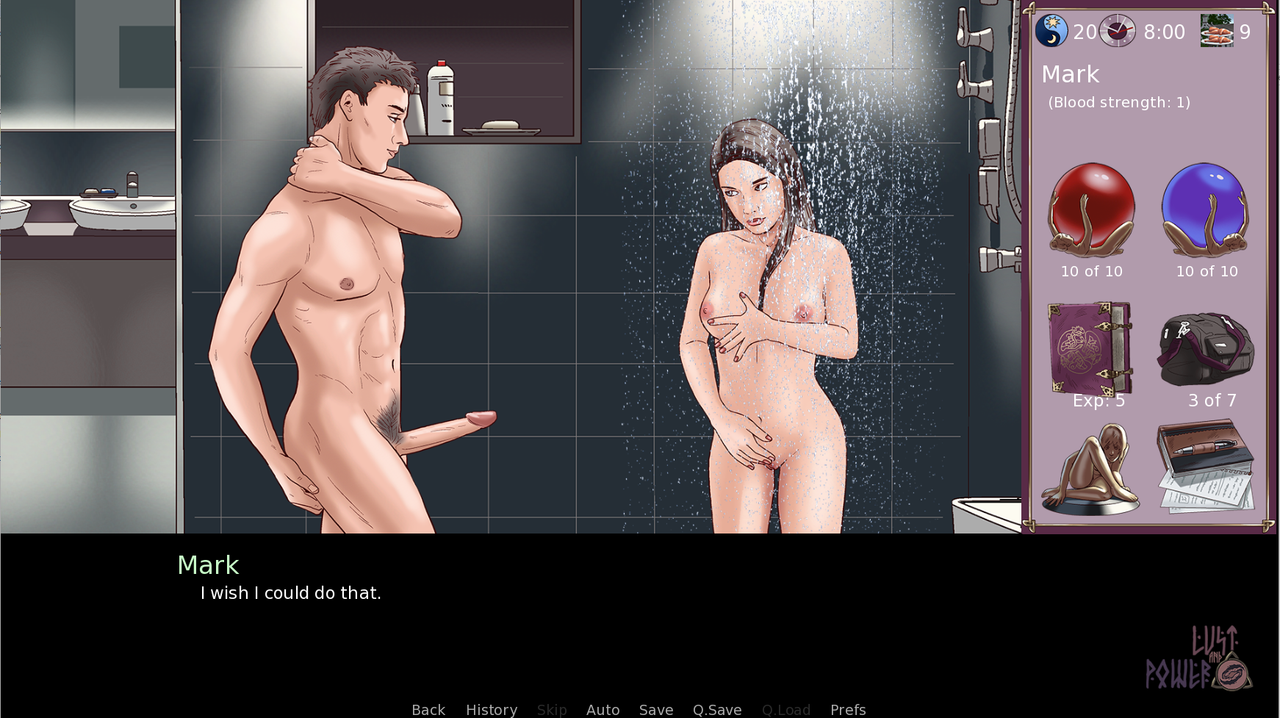 Lust and Power - Updated - Version 0.21 (Pc, Mac) + Bugfix Online Galleries View:
In this game you play as a young man, whose family inherited a mansion from a distant relative. There you are going to reveal some mysteries and to gain some dark powers. You will have to face demon attacks, to meet some strange persons, to protect your family (mom and sister), and to use their gratefulness to gain control over them and to make them your sex slaves.​[/b]
Changelog v0.21:
1) Lisa's content:
- All old Lisa's texts were remade in order to fit to the new corruption system (two ways of corruption – the gallant and the dominant). The amount of her texts was extended twice.
- Added the following new options for Lisa:
o You can give Lisa a compliment
o You can dominate Lisa
o You can try to impress Lisa with the Dark Ball skill or with the Dark Storm skill
o You can use Stun Charms on Lisa
o You can use Dark Theft on Lisa
- The result of "inside the mind" battle for Lisa changed. Now if you win, you can choose of you want to increase her love points or her submission points. This is still the most effective way to earn any Lisa's points.
- We replaced old Lisa's underwear for her regular outfit for all existing scenes with the new one. Now she wears an underwear with white and blue stripes.
- We created a wardrobe spell for Lisa that changes her regular outfit with special sexy outfit (available for $15 and higher Patrons) . Now you can see all her existing hot scenes in a new light.
- We added new illustrations for two old Lisa's hot scenes (Lisa taking off shirt; Lisa taking off skirt)
- We added two new hot scenes with Lisa (Lisa taking off bra; Lisa dancing for you)
- A hint: you'll get success with Lisa's hot scenes only if you have either her love points or her submission points no less than 40.
2) New battle mechanics content
- The whole system for battles was replaced with totally new one. No Random Number Generator anymore, no unlucky series of missing attacks anymore. Now when you attack you will always know that you'll get expected result.
- Instead of RNG we added a cooldown parameter to each skill. You won't be able to use some skills each turn. Instead of this you'll have to wait several turns to be able to use it again.
- All skills have fixed effect. No random damage anymore.
- Each skill will have only 5 levels. You won't be able to increase skill after you reach level 5.
- A text info about how skill changes with each level was added to the Skill Information Screen. In previous versions you didn't know how new levels affect your skills. Now you'll know it.
- The Mental Shield skill was transformed into two new skills. In previous versions when you used Mental Shield, you increased your chances to block enemy's attack, and at the same time you restored some energy. Now you have a separate "Collect Energy" skill that will let you gain some energy during the battle. And you also have "Mental Shield" skill that creates a shield on the battle ground. This shield has its own health points and stays till the end of the battle or till the enemy destroys it.
- A new skill was added – "Berserk Rage". This skill adds1 point to the damage of all your other skills. So if your Dark Ball could deal 1 damage to the enemy, after you use "Berserk Rage" your Dark Ball skill will deal 2 points of damage till the end of the battle. "Berserk Rage" can be used as many times as you want in the battle.
- New skill crystals images were created for the Skill Information Screen. Now they have colors – red for attack skills, yellow for tricky skills, blue for support/defense skills and green for skills that you can't use in battle.
- New buttons were created for skills in battle.
- Now enemies can use "Berserk Rage" too.
- Now enemies can block some part of damage you deal. Under the health/energy bars there are two small icons that show the effect of "rage" and the amount of damage that enemy can block. Enemies can block more damage when they take a defense stance, and they are totally vulnerable when they try to cure themselves or cast "rage".