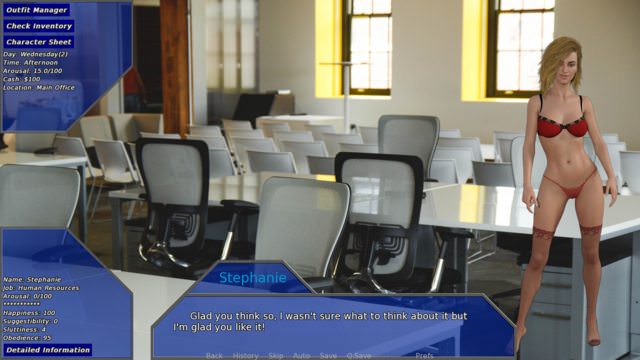 Title : Lab Rats 2 - Version 0.14.1 (Pc, Android)
Pages : 8
Size : 695 MB
Category : Adult Sex Games
Artist : Vren
Added on 08.03.2019
Views : 199
Comments : 0
Lab Rats 2 - Version 0.14.1 (Pc, Android) Online Galleries View:
Lab Rats 2 is set shortly after the events of the Lab Rats 1, but will not require any knowledge of it to enjoy. The game will focus on corrupting your female employees as you build your pharmaceutical empire. The game will feature procedurally generated girls, a detailed clothing and outfit system, and a complex sex system.[/b]
v0.14.1 is a major update that introduces a main statistic for girls: love. Love is a measure of a girls individual devotion and relationship with you, as opposed to their general sluttiness or obedience. The higher the love value the more willing a girl is to have a friendly chat, go out on a date, or have sex with you in private. New events and conversation options have been added to give ways to raise a girls love and old events have been modified to make the stat relevant.
*CHANGES AND ADDITIONS*
- Added "love" stat for girls. Characters wtih high love will have higher sluttiness when you are in private and be more devoted to you. Characters with low love will have a penalty to sluttiness all the time.
- Family members do not recieve the positive sluttiness modifers from Love.
- Added support for sub maps on the main map screen.
- Added distinct homes for each character.
- Added ability for MC to discover where characters live and visit them.
- Added character home sub map, to let you visit characters who's home you know about.
- Updated "out of uniform" crisis. Characters who love "not wearing anything" now gain love and have no happiness drop when they are told to strip and work naked.
- Updated all existing role events, crises, and actions to affect love when apporpriate.
- Added support for menu tooltips.
- Created "Employee" role, which is given to all employees when they are hired.
- Moved all existing employee based interactions into the "special action" menu.'
- Refactored "Action" class. Added tooltip support and much more comprehensive control over how buttons are displayed.
- Crises involving Mom and Lily now take Love into account when deciding how comfortable they are with you.
- Added 4 new panty clothing items and 2 new bra clothing items.
- Added new random event for Lily.
- Added new outfits using new clothing items.
- Added new "performance review" action for employees. Can be performed once a week.
- Rewrote sections of night time visit crisis to work better with new living arangements.
- Removed mandatory "Talk with" action that was associated with the new serum crisis to avoid double time skips.
- Characters are now more likely to ask for permission when stripping if they are highly obedient.
- Added new nightime crisis involving mom at moderate sluttiness and love.
- Clicking on a text input field in the character creation window now auto clears the default text.
*BUG FIXES*
- Characters who are fired will now stop showing up for work.
- Characters no longer recieve a happiness boost when you insult their work.
- Added clock symbol to menu options that will advance time.
- Expanded small talk option. Knowing a girls opinion on a topic will result in a larger love increase.
- Refactored "Chat with her..." menu screen to make future content additions easier.
- Removed limitations on how often you can chat with a girl.
- Added time advancement to most events where you chat with a girl.