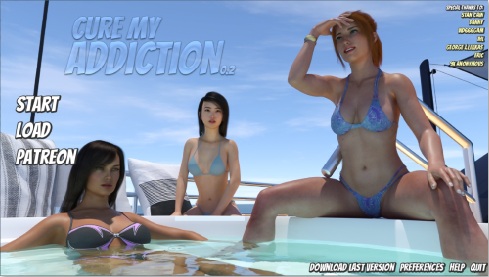 Cure My Addiction - Version 0.2.2 - Pc and Mac Online Galleries View:
Since your parents found out that you're spending way too much time watching porn they decided to take action and do something about it.
Finally, they come to the conclusion to send you on your Uncle yacht without a phone, TV and computer. You're not sure what happened, you didn't see your Uncle for many years, your mother and him rarely talk to each other.
Apparently few years ago he becomes a millionaire and live a luxurious life since then. He's married to Rachel and they have two daughters : Chloe and Emily. Emily, the oldest, was born from a previous relationship, I've never seen her father. Chloe was adopted a few months after my uncle married Rachel.
Once on board you'll have to follow new rules to live on the boat and you'll learn that breaking them has consequences. When you notice there's only stunning women on board, you see an opportunity to give up porn for something even better! How will you achieve your goal? That's up to you.
Version 0.2.2:
Improved progression tracking system
Added a tooltip when you hover a star.
You can see what you can do and what you need to do to unlock an event.
The GUI has been improved a little.
If you disabled femdom, the femdom content is not counted towards the progression percentage (%) tracking.
Mechanics' changes
After reaching the first milestone, MC can't have a public erection anymore and it's not needed for Rachel's Helping Hands.
New dialogues related to the "Payback" event during dinner.
New activities during the weekend.
Night visit : Rachel will not enter MC room in the middle of the night anymore. If the MC must be punished, you must then talk to Rachel after dinner to receive the punishment. If you don't talk to her, Rachel's tolerance will not reset. It makes things easier to control the severity of the punishment but if you never go to Rachel for the punishment you'll most likely reach the game over threshold.
You can order some items when calling Mr. Elwell personal assistant.
When MC reads a book, there are a few new dialogues.
Existing events with new content
Rachel's Helping Hands
Chloe's Training
Emily's Help
Chloe's New Punishment (new action for favors)
Linda's Surprise Visit
Midnight Bath
Aunt Makes Mistake
New events
Sister Rivalry
Asking for It
Emily's Exam
Not so Safe Anymore
Emily's second toy
?????? (I don't want to spoil this one with the name, eheh.)
Bug fix & Others
Various code improvement.
Fixed some missing renders.
Fixed a few triggers (they didn't block progression)