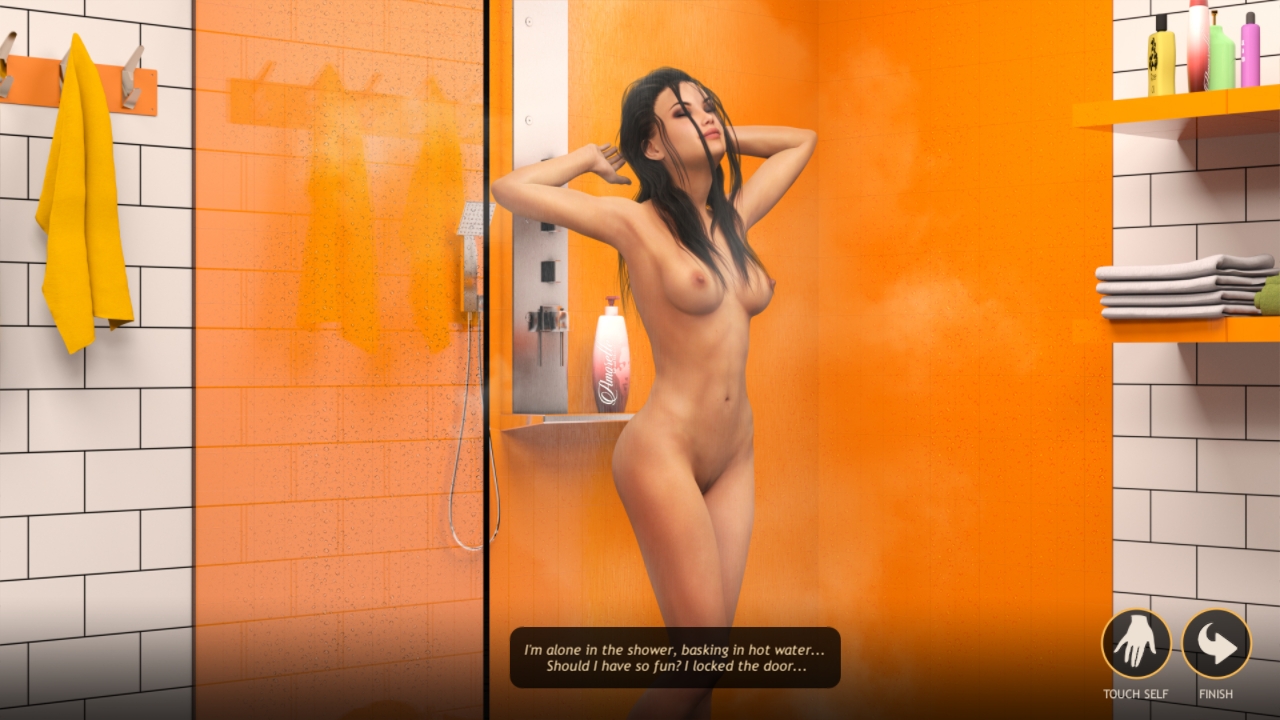 Glamour - Version 0.3 - Update Online Galleries View:
It's going to be a sandbox RPG with a lot more freedom than Big Brother.
Many different NPCs, who are going to live their own lives. Main character is just a part of the world, not the center of it.
Every NPC, while having some random characteristics here and there, is going to have a lot of care and development put into them. They will have their own stories and secrets.
Many NPC-related storylines, which will tell you more about them and will elevate your relationships to a new level.
The main character—by the way, this time the main character is female—will be able to interact with NPCs and change their behavior, tastes and preferences.
Dates (and more) with NPCs, both men and women.
Many different fetishes. Everyone will find something that gets their engine going.
The main character and NPCs have a lot of different skills and parameters.
Lots of ways to earn money. From completely legal to…
Mini-games. From lock-picking to gambling like poker.
Crafting and selling new items.
Experimental college with unique rules, which will lead to all kinds of spicy situations. The main character will be able to manipulate the rules to achieve her goals.
The game is going to be set in the same place and time as Big Brother. The main character will be able to meet a lot of familiar characters and more. Oh, and spiders. There will be spiders.
Windows, OSX and Android support.
And, as always, great graphics. As good as last versions of Big Brother and better![/b]
As you've already heard many times before, we're making a sandbox game with many gameplay elements. Originally we were planning to make college lessons our first gameplay element we add into the game, but it's taking a bit more time than we anticipated, even though we're working on it every day. So it looks like the first gameplay element in the game is going to be a hotel maid job.
For now, hotel is going to have four rooms with five long-term hotel residents. Two women and three men, but that's all I'm going to tell you about them today. We have plans for two more rooms. One is going to have a famous rock star, second will have a character from BB, but you won't see him until 0.5, it's going to be a surprise.
Besides five long-term residents, we'll also add Louise (Angela's mom) — owner of the Magnolia hotel network, Monica — hotel administrator, and Lien — a masseuse. You might have seen those characters in earlier post next to reception.
Now, let's talk gameplay. Each shift Kate will be cleaining one hotel room: bedroom and bathroom. Sometimes the room is going to be empty and cleaning up the room is going to work like a find-an-item minigame. Most of the time players will get to decide what to do with stuff they find. Adding a minigame will take some time, but we're aiming at 0.4.
Sometimes the room won't be empty and players will see events. Every character will have a series of events and dialogs, Kate will establish relationships with all of them. For now Kate won't have any say in what room she's going to clean, but eventually Monica will let her make that decision in the future.
Hotel is going to play important role in our story, we'll be adding new characters, expanding already existing ones and adding new content.