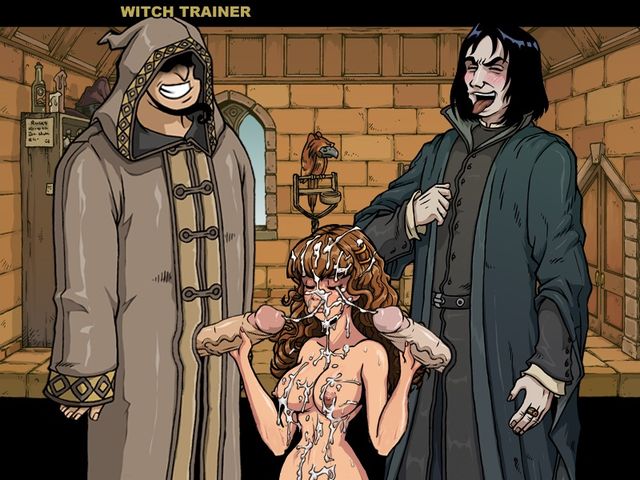 Title : Witch Trainer – Silver Mod - Version 1.31 (Pc, Mac, Android)
Pages : 16
Size : 2070 MB
Category : Adult Sex Games
Artist : Mo
Added on 20.06.2018
Views : 1 134
Comments : 0
Witch Trainer – Silver Mod - Version 1.31 (Pc, Mac, Android) Online Galleries View:
CHANGELOG 1.31:
• Huge amount of bug fixes! (Thanks to the team for fixing them and the players for reporting them!)
• Boobjob CGs for standard boob size (Expanded coming next patch) as well as CG for the milking potion.
CHANGELOG 1.3:
General:
• Complete rework of Hermione's face layer.
• A complete user interface overhaul. Thanks to AseAse1 for helping with the code for it.
• HD Upscaling for all sprite assets (lower quality version available)
Gameplay:
• Every event, favour, and scene in the game has received improvements, updates, and bug-fixes.
• Favours that increase Hermione's whoring level are now marked with a small star icon in the favour menu.
• Cheats will now need to be activated at the start of the game.
• Added the sex CG to the anal favour.
• You can now choose either chibis or sprites (CGs) for the sex and anal favour.
Wardrobe:
• Complete overhaul of the wardrobe with improvements, bug-fixes, and Qol features.
• Framework for a possible use with other girls.
• More on/off-toggles for things like accessories and tattoos.
• Poses for Hermione have been added to the wardrobe. They will stay active during personal favours.
Hermione:
• Added 14 color variants for Hermione's skirts, pants, pullovers, her normal underwear, her silk underwear, and bikini.
• Hermione can wear the cheerleader attire from all four houses now.
• Every piece of Hermione's wardrobe can be used with her larger breasts (except outfits.).
• Hermione's hair-colors have received improvements. The new hair-style from the Elizabeth costume has also been added.
• Added red lipstick option.
• Added piercings.
• Elizabeth costume
• Yennefer costume
Luna:
• New sex CG with Hermione.
Astoria, Tonks and Susan:
• Intro content for the three new characters as well as the framework for future scenes.
• Spell scenes for Astoria/Susan
• Tonks private favours
• Lazy town costume for Astoria
Chibis:
- Chibis are now fixed!
PLANNED FUTURE CONTENT:
Bug Fixes
Public Shaming:
• Wear my cum - part 3
• Under the desk blowjob
Potions:
• Hyper sensitivity potion (Ahegao)
• Clone potion
• New path for Hypnosis potion
• Time stop potion
Luna
• New favours
• Chit Chat Dialogue
New Private Favours
• Masturbate for me favour
LIST OF NEW CONTENT IN SILVER:
This is basically a summary of the additional content available in WT Silver:
• New locations accessible through map
• New side characters - Weasley twins and Madam Mafkin
• New girls - Luna, Susan, Astoria, Tonks, Cho!
• Tutoring events
• Potions for Hermione - (Hypnosis, Breast expansion, etc)
• Customisable uniforms, costumes, hair colors/styles, accessories and more
• New private favours for Hermione
• New images for public events
• New public shaming events for Hermione
• Jobs for Hermione
• Cheats
• More stuff that I've probably forgotten